Valve with Joystick for Koyker Loader Models 50 through 345 - 673010 - NEW
New Hydraulic Joystick / Valve kit for Koyker Front End Loader Models 50 - 345.
NOTE: This control valve will also work with any brand loader on a tractor with 80 HP or less.
Shipped Open Center.
Joystick Handle is included (not installed)
Rubber Boot is included (installed)
Open Center Plug / Closed Center Plug / Power Beyond Sleeve are included (not installed).
IN STOCK
This valve is sold NEW.


Joystick and Control Valve for the following Koyker Front End Loader Models:
Koyker Loader 50
Koyker Loader 80
Koyker Loader 100
Koyker Loader 110
Koyker Loader 120
Koyker Loader 125
Koyker Loader 140
Koyker Loader 145
Koyker Loader 150
Koyker Loader 155
Koyker Loader 160
Koyker Loader 165
Koyker Loader 175
Koyker Loader 180
Koyker Loader 185
Koyker Loader 190
Koyker Loader 195
Koyker Loader 200
Koyker Loader 210
Koyker Loader 220
Koyker Loader 235
Koyker Loader 245
Koyker Loader 310
Koyker Loader 315
Koyker Loader 345
Replaces current Koyker controller part number: 673010
Replaces previous Koyker valve/joystick part number: 655446.
Brand of Valve: Pace Mfg 7040
This is a dinoil valve. It has two spools that raise and lower the loader, and curl and dump the bucket. The valve's working pressure is 3000 PSI. Its flow capacity is 13 GPM. This hydraulic valve ships open center but comes with the power beyond sleeve and plug, which can be added to make the valve work with any hydraulic setup: open center, closed center, and power beyond (PBY). The float function is on the first spool. When shifting from neutral, the check valves prevent it from reversing. The relief valve is adjustable from 1450-3000 PSI. The ports are 3/4" 16 (SAE #8). The joystick and rubber boot for the loader controller are included in the kit.
2-Spool Dinoil Valve for Koyker Loaders
Replaces D060E2B
Replaces 2-handle, 2-spool Dinoil Valve that was made in Italy
Instructions for installing hydraulic hoses on Pace 7040 valve:
This is a picture of the original 2-spool dinoil valve used with Koyker Loaders. It has two handles, one for lift / lower and the other for dump / retract. The part number stamped on this valve is: D060E2B. It also says "Made in Italy" on the body of the hydraulic valve. This valve can be switched out with Koyker part number 673010. The new valve model is Pace 7040. While the new valve has only one joystick handle (versus the two handles on the old valve model), it works the same way. The one joystick controls both the lift / dump and the tilt / retract functions. The port sizes on the new valve are the same as the old-style valve, so the existing hoses will hook up the same way. The bolt holes on the new valve also will line up exactly with the bolt holes on the joystick bracket after taking off the old valve.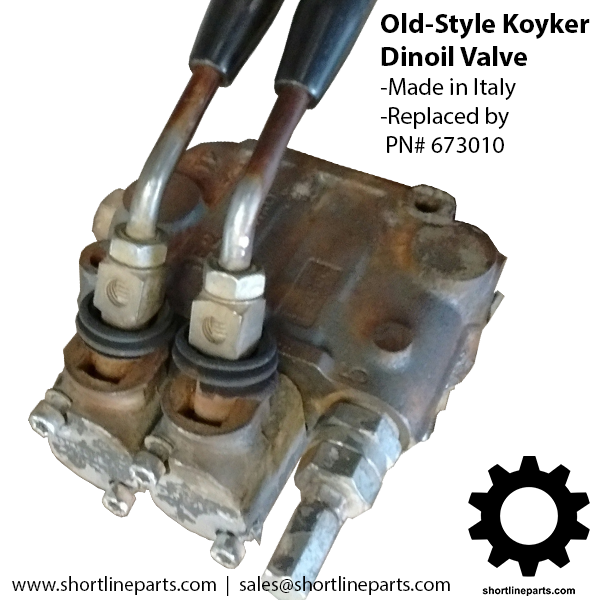 This 2-function valve works with the following tractors:
AG KING
2040 2840 3540 4540
AGCO
ST22A ST25 ST30 ST30X ST35 ST40
AGCO-ALLIS
4650 4660 5650 5670
AGCO-WHITE
6045 6065
AGRACAT
204 250 254 2554 2720 2740 2910 2920 2940 3720 2940 Super
AGTRAC
2514 3024 3814
ALLIED
222 243 322 403 504 3004 3504 4504
ALLIS CHALMERS
160 D-17 Series 1 D-17 Series 2 D-17 Series 3 D-17 Series 4
BELARUS
250A 310 400A 400AN 405A 420A 420AN 425A 505 530 560 570
BENYE
BY254 BY304
BRANSON
2810 2910 2910i 3510 3510i 3520 3820 3820i 4020 4220 4220i 4520 4720 4720i F3550 F4350 F4550
Case-IH
1190 1194 245 255 275 385 395 485 495 585 595 685 695 885 1120 1130 1140 3220 3230 4210 4230 4240 C50 C60 C70 C80 D25 D29 D33 D35 D40 D45 DX18E DX21 DX22E DX23 DX24 DX24E DX25 DX25E DX26 DX29 DX31 DX33 DX34 DX35 DX40 DX45 DX48 DX55 DX60 Farmall 45A Farmall 55A Farmall 55 Farmall 60 Farmall 70 Farmall 80 Farmall 40B Farmall 50B JX60 JX70
CENTURY
2028 2035 2045 2535 3035 3040 3045
CUB CADET
7232 7233 7234 7235 7260 7265 7272 7273 7274 7275 7300
CUB CADET/YANMAR
SC2400
DAVID BROWN
7305 7360 990
DEUTZ
3607 4506 5220 5230 5506
DEUTZ-ALLIS
6240 6250 6260
DEUTZ-FAHR
Agrolux 60 Agrolux 70
DONG FENG
DF254 DF254G2 DF354
DRAGON
270 324
EICHER
364 485
EMERYBUILT
264
FARMPRO
554 2010 2420 2425 2430 2455 2510 2540 3010 4020 4040 7020 7040
FARM SYSTEM
FS-254
FORD/NEW HOLLAND
1120 1215 1220 1310 1320 1510 1520 1530 1620 1630 1710 1715 1720 1725 1910 1920 1925 2000 2110 2120 2600 2810 2910 3000 3010S 3100 3230 3300 3415 3430 3600 3910 3930 4000 4055 4060 4100 4110 4600 4610 4630 5000 5030 5600 5610 5610S 5900 6610 6610S 7610
FOTON
254 354 404 504 604 704
FUTIAN
304 354 404
HARDY DIESEL
254
HINOMOTO
E2304 E2804
HURLIMANN
305
INTERNATIONAL
84 Hydro 284 400 450 454 460 464 504 560 574 584 664 674 684
IRON HORSE
184 254
ISEKI
TA210 TA230 TA235 TA250 TA265 TL1900 TL2100 TL2101 TL2300 TL2301 TL2500 TL2501 TL2700 TL2701 TL2900 TL2901 TL3200 TL3201 TL3700 TL3701 TL4200 TL4201 TS1610 TS1910 TU1700 TU1900 TU2100
JINMA
204 224 254 284 304 354 554 754 204LE 224LE 254LE 284LE 304LE 354LE 404LE 454LE MTE204 MTE224 MTE254 MTE284
JOHN DEERE
401B 650 750 790 820 830 850 855 870 950 955 970 990 1020 1050 1070 1520 1530 2010 2020 2030 2040 2150 2155 2210 2240 2305 2320 2350 2355 2440 2510 2520 2550 2555 2630 2640 2750 2755 3010 3020 3033R 3039R 3046R 3120 3320 3520 3720 4010 (15HP) 4044M 4044R 4052M 4052R 4066M 4066R 4100 4110 4115 4120 4200 4210 4300 4310 4320 4400 4410 4500 4510 4520 4600 4610 4700 4710 4720 5045D 5045E 5055D 5055E 5065E 5075E 5103 5105 5200 5203 5205 5210 5220 5225 5300 5303 5310 5320 5325 5400 5403 5425 5500 5525 5625 X700 X720 X720SE X724 X728 X728SE X729 X740 X744 X748 X748SE X749
KAMA
TS254C TS354C TS354X 354 454 554
KIOTI
CK20 CK25 CK30 DK35 DK40 DK45 DK50 DK55 LB1914 LK2552 LK2554 LK3052 LK3054 LK3504
KODIAK
430
KUBOTA
B1150HSD B1550HSD B1550HSE B1550HSD B1700HSD B1700HSDB B1750HSD B1750HSE B1750HSD B2100HSD B2100HSDB B2150HSD B2150HSE B2150HSD B2400HSD B2400HSE B2400HSDB B2410HSD B2410HSE B2410HSDB B2710HSD B2910HSD B3030HSD B3030HSDC B7100HSD B7100HSE B7300HSD B7400HSD B7410HSD B7500HSD B7510HSD B7610HSD B7800HSD B8200HSD B8200HSE B9200HSD B9200HSE BX1500 BX1800 BX1830 BX1850 BX22 BX2200 BX2230 BX23 BX2350 BX24 L2250 L2350 L2500 L2550 L2600 L2650 L285F L2800 L2850 L2900 L2950 L3000 L3010 L3130 L3240 L3300 L3350 L3400 L3410 L3430 L3540 L3600 L3710 L3750 L3830 L3940 L4150 L4200 L4240 L4300 L4310 L4330 L4400 L4610 L4630 L4740 L5030 L5040 L5240 L5740 M4030SU M4700 M4800SU M4900 M4900SU M5040 M5400 M5700 M6040 M6800 M7040 MX5000 MX5000SU ZL1500 ZL1501 ZL1801 ZL2002 ZL2022
LENAR
FS274-1 JL254-ll LE200 LE204 274-1 LE
LONG
480 520 610 680 2360 2460 2510 2610 480DTC 520DTC 2360DTC 2460DTC 2510DTC Farmtrac 45 Farmtrac 60 Farmtrac 270DTC Farmtrac 300DTC Farmtrac 320DTC Farmtrac 360DTC Farmtrac 450DTC Farmtrac 545 Farmtrac 545DTC Farmtrac 550DTC Farmtrac 555 Farmtrac 555DTC Landtrac 280DTC Landtrac 300DTC Landtrac 360DTC Landtrac 410DTC Landtrac 450 Landtrac 450DTC Landtrac 470DTC Landtrac 530DTC Landtrac 550 Landtrac 550DTC
LYNTRAC
254
MAHINDRA
eMax 22 2810 3016 3316 3510 3535 3540 3550 3616 3825 4025 4035 4110 4525 5035
MASSY FERGUSON
GC2300 GC2310 135 165 175 230 231 231S 235 240 241 243 245 250 253 255 261 263 265 275 283 290 431 1020 1030 1035 1205 1215 1225 1230 1233 1235 1240 1250 1260 1429 1433 1433V 1440 1440V
McCORMICK
C70 C80 CT65U GX40 GX40H GX45 GX45H GX50 GX50H
MEMO
M451
MILLENNIUM
T290 T390 T390 Avenger T430 T430 Avenger T550
MITSUBISHI
D1650 D1850 D2000 D2050 D2500 D2650 MT3201 MTE2000
MONTANA
2740 3040 3240 3840 4320 4340 4920 4940 5720 5740 C6862
NEW HOLLAND
Boomer 30 Boomer 35 Boomer 40 Boomer 50 T1510 T1520 T2410 T2420 TC18 TC18D TC21 TC21D TC21DA TC23DA TC24D TC24DA TC25 TC25D TC26DA TC29 TC29D TC29DA TC31DA TC30 TC33 TC33D TC33DA TC34DA TC35 TC35A TC35D TC35DA TC40 TC40A TC40D TC40DA TC45 TC45A TC45D TC45DA TC48DA TC55DA TT75 TT75A TT45A TT50A TZ18DA TZ22DA TZ24DA TZ25DA Workmaster 45 Workmaster 55
NORTRAC
404 604 824
OLIVER
1555 1600 1650 1655
RHINO
162 182 184 202 204 222 224 284 324 342 344 404 504 552 554 1210 1214 2224 3024
RHINO
3120 4134 4234 5140 3320 Classic
RINGO
3000
RINGO STAR
5000
S.A.M.E.
Argon 50 Explorer 70 Special Solar 50 Solar 60
SCORPION
T300 T400 T450 T580
SHAKTI
VST180
SHENNIU
2 25 4 25
SHIBAURA
D275F D28F P19 P21 SD1803 SD1840 SD1843 SD2403 SD2443 SD2603 SD2643
SHANGHAI/NEW HOLLAND
SH504
STALLION
D25
SWARAJ
855FE
TAFE
25 2700 CE 2800 CE 35 3500 CE 3600 CE 45 4010 5000
TASK MASTER
426 432 438E
TERRA CYCLONE
274
TERRAPLANE
TD254 TD354
TIGER
2425
TRACTOR KING
200 204 254 404 704
TYM
T233 T273 T330 T400 T450
WHEEL OX
254
WOODY
304
YANMAR
1300 1301 1401 1500 1510 1600 1601 1602 1610 1700 1702 1720 1802 1810 1820 1900 2000 2001 2002 2010 2020 2200 2202 2210 2220 2301 2310 2402 2420 2500 2500 2610 2620 2700 2820 3000 3110 3220 3810 F14 F15 F147 F220 F230 F240 F250 F16 FX16 F18 FX18 FX20 F22 FX22 F24 FX24 FX26 FX28 FX32 FX42 FX214 F215 FX215 FX235 FX255 J1800 J2000 YM186
YTO
304 354 404 454 504 554
ZETOR
3320 4320 5211 6211 7711 3520
More Information

| | |
| --- | --- |
| Manufacturer | Misc |
| Call For Price | No |